Satisfaction Guarantee and Warranty
All Harmony evolution products bear a six month unconditional, 100% money back satisfaction guarantee. 
Further, all Harmony evolution products are guaranteed to function for at least ten years.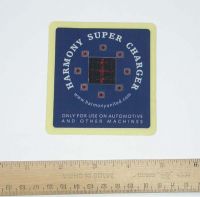 Harmony Super Charger
Improve road holding - reduce tyre wear
Improve engine efficiency - reduce engine noise and increase power
Improve braking - better vehicle control, shorter braking distance and reduced brake wear
Improve fuel burn - reduce both consumption and exhaust gasses
Eliminate confusing electro smog - be more aware and, hence, safer on the road
Please click here to see the webpages relating to this product
This is the version for private cars, pick-ups and light vans.
The larger version for lorries, busses etc. is in development
Also available at a special price in our combination offers
Your location

»» Germany
is this correct?