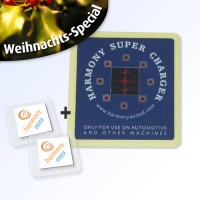 Harmony Driving Christmas Set
Improve road holding - reduce tyre wear
Improve engine efficiency - reduce engine noise and increase power
Improve braking - better vehicle control, shorter braking distance and reduced brake wear
Improve fuel burn - reduce both consumption and exhaust gasses
Eliminate confusing electro smog - be more aware and, hence, safer on the road
PLUS! 2 mini chip free of charge for your shock absorbers/shoes/mobile & cordless phones; our Christmas present to you.
To view the website about the Harmony Super Charger please click here
To read the special report about shock absorbers - click her for part I.
To clean up your mobile and cordless phones
Your location

»» Germany
is this correct?