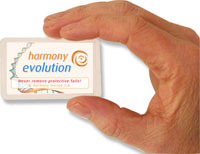 2nd choice: Harmony Evolution (SOLD OUT)
Clearance item without right of return
Revitalise your blood
Protect yourself from electro smog
Improve your golf
Improve your sport performance
Rapid recovers from injuries
Speed up your personal development
Become clearer and cleverer
Revitalise water
This is the more powerful Harmony Evolution which supercedes the older Harmony Chip Classic. It can be used in virtually any application .
The webpages start here - just click
Please note:
This product is a clearance item sold at a drastically discounted price and without right of return. However,
the 10 year quality warranty DOES apply to this product.
Your location

»» Germany
is this correct?