¡Deseamos que esté satisfecho al 100%!
Para nosotros es muy importante tener clientes satisfechos. Utilice tranquilamente los productos de Harmony United – tienen una garantía de satisfacción de 6 meses con devolución completa del precio de compra.
Además tienen una garantía de funcionamiento de 10 años.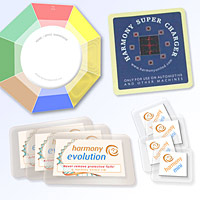 Komplettpaket
1 Home and Office Harmonizer, 1 Super Charger, 3 Harmony Evolutions and 4 Harmony Minis
Ein Home and Office Harmonizer
Ein Harmony Super Charger
Drei Harmony Evolutions
Vier Harmony Minis
Su lugar de residencia

»» Alemania
Ist das korrekt?