December 6th
Saint Nicholas Day 
St. Nicholas of Myra is a popular Christian Saint among children across Europe because of his reputation as a bringer of gifts. Both the North American Santa Claus and the British Father Christmas are legendary figures whose attributes derive from the myths surrounding St. Nicholas of Myra who officiated as a bishop in 4th century Greece. During his lifetime he developed a reputation for gift-giving by putting coins in other people's shoes, which accounts for many of today's Christmas traditions that involve leaving gifts in shoes or boots.
Share Harmony

To celebrate Saint Nicholas Day the discount machine (see Christmas Special No.1 below) gets a boost to provide you with a DOUBLE discount for the first 222 pcs. of the amazing Harmony Evolution. Use following discount code during checkout and the higher discount will show up in your basket:
NICHOLAS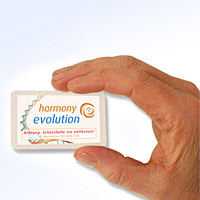 1 Harmony Evolution and/or Pendant gets you the special Harmony 10% discount. But each additional Harmony Evolution gives you an additional discount thus:
2   minus 6%
3   minus 10%
4   minus 15%
5   minus 20%
7   minus 25%
10 minus 30%
But, caution – these discounts are valid only for the planned allocation (222 pcs.) and the code will only work today, December 6th until midnight!
If, after entering the code, the  "Sorry, the discount voucher code has already expired."-message appears, the allocation has already been exhausted.